Art of Fighting
Art of Fighting was originally released in 1992 and ported to the SNES in 1993.  South Town is no place for the weak. Yet into this urban battle zone comes Ryo, braving the mean streets in order to rescue his kidnapped sister.  With his friend Robert, the two must use all their strength and skills to battle and defeat the toughest fighters ever assembled. These fighters are big, powerful and strong. Each possesses special skills that will be hard to counter. Ryo must master the Super Attacks if he is to be victorious.  Only the strongest of fighters will survive the streets of South Town.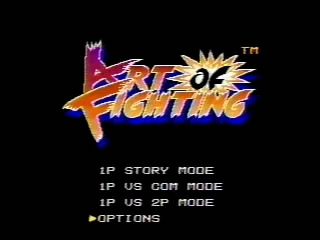 commentary available as audio track 2
Get Flash to see this player.