Borderlands
Borderlands is a Sci-fi First Person Shooter with a quirky sense of humor. Developed by Gearbox Studios and published by 2K Games it uses a modified version of the Unreal Engine 3. Though it is a Sci-Fi game it is reminiscent of a western due to the desert like landscape and focus on ballistic weaponry. Borderlands has heavy RPG elements, specifically you gain experience and "level" throughout the game. This creates the interesting play mechanic that enemies of a higher level than you are harder to kill and enemies of a lower level are easier to kill. Thus you are required to explore and complete side missions in order to progress through the storyline as enemies quickly become too strong to kill if you only follow the main storyline. The player assumes the role of one of four "Vault Hunters" who have come to the planet Pandora to search for the Vault; a mythical trove of alien technology and riches. Each character has their own special ability and skill tree. The skill trees differ primarily in that they have enhance the use of various weapons or increase the survivability of the character through various means.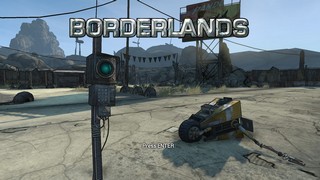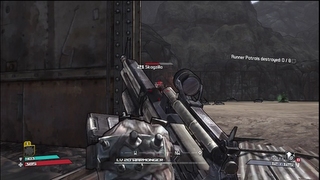 commentary available as audio track 2
Get Flash to see this player.