Castlevania Chronicles
Released in 2001 for the Playstation, Castlevania Chronicles is developer Konami's remake of their smash hit original game. Featuring updated graphics, several new moves since the NES days, and an awesome soundtrack, players can again pilot Simon Belmont through the familar levels of Castle Dracula, as well as a few new areas.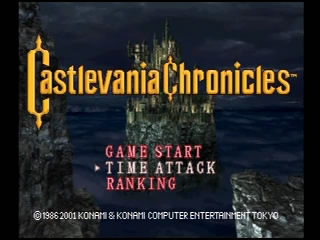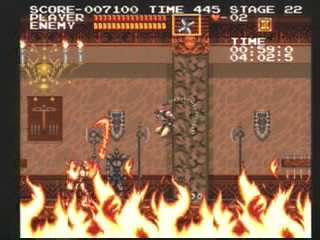 Individual-levels run: table
Get Flash to see this player.
Stage 1 (Nicholas 'Sir VG' Hoppe)
Block 1 improvements came in 0.1 chunks. I saved 0.1 in the main section of Stage 1, 0.1 at the end of Stage 2, 0.1 going into Darkwing Bat, and 0.1 at the fight itself.
Stage 2 ('Persona')
Everything went the way I wanted it to be. Lost like half a second at 1:22 because I bumped my head into the ceiling. Other than that everything went perfect, unless you count getting it on the raft not being perfect (getting hit on the raft doesn't lose time just to let you know).
Stage 3 ('Persona')
Again everything went perfect....... except for getting hit by the bone.... twice.
Stage 4 (Nicholas 'Sir VG' Hoppe)
Block 4 featured a much greater improvement, due to FINALLY nailing the gear section in Stage 12 and still getting a fantastic Medusa fight. I gained 0.4 seconds in Stage 10, 0.2 in Stage 11, 1.1 in the first part of Stage 12, an additional 0.6 going to the boss fight. However, I lost 0.2 seconds collecting the orb as I jumped too soon, for an overall gain of 2.1 seconds.
Initially in Block 4 I hit a 2:40.2, but knew it was improvable. However, either my old style PS1 or my disc crapped out on me, but with a little work I managed to get the game on my PSP-3000, as well as pulled the save file from my PS1 memcard and got it installed on the PSP. Working with the D-Pad on the PSP is different then a DualShock 2, but I managed to adjust in a day or two, to pull off my 2:38.9.
Stage 5 ('Persona')
Could've been better since the boss' movements is really random. The stage performence was great IMO.
Stage 6 ('Persona')
First section went perfect. Second section could've been a bit faster if I wasn't so whip happy. I did get through the second section unharmed though, which also did save me time. So overall it wasn't so bad. Third section went well with all the stopwatch abuse. Also got lucky during the boss battle by trapping it in the corner. As for when the orb comes down, I could've saved time by using the platform to jump, but if I messed up, I would be losing more than I gain, so I didn't risk it, also I don't get this lucky all in one go all the time.
Stage 7 ('Persona')
This stage took me longer than doing all the other stages put together. But when I finally could do it, I was very satisfied with my time. Death battle could be a bit better I think though.
Stage 8 ('Persona')
Stage performance went fine, although the maid room could be better. Also got very lucky on Dracula with his random patterns. Most of the time he appeared at the spots where I could easily abuse the cross and get a whole load of damage off him.