Diablo II: Lord of Destruction
Released in June 2001, 11 months after the original game, the Lord of Destruction expansion lifted Diablo II into an elite pantheon of online games played by the masses. Blizzard introduced a new act, two character classes, hundreds of new items, item classes, new enemies, new enemy and boss characteristics, and more. In the new act, Baal - The Lord of Destruction - is leading the entire extended army of Hell against the legendary Mount Arreat in the land of the barbarians, sworn protectors of the World Stone. If Baal is able to corrupt the stone then the barriers holding the planes of existence will shatter and Hell itself will wash over the mortal realm like a tidal wave of shadows.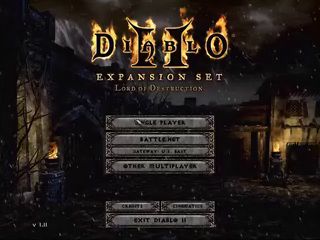 Get Flash to see this player.
Get Flash to see this player.
commentary available as audio track 2
Get Flash to see this player.