Fallout 3
Released October 2008 for Xbox 360, Playstation 3, and PC, Fallout 3 is a cross between a first person shooter, turn-based strategy, and a role playing game. It was released 10 years after Fallout 2 and developed by Bethesda instead of Black Isle. The game takes place in the ruins of Washingon D.C. 200 years after a nuclear war. The player takes control of the lone wanderer as he escapes the vault he grew up in and searches the wasteland for his father.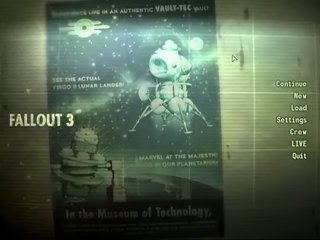 commentary available as audio track 2
Get Flash to see this player.