The Legend of Zelda: The Minish Cap
First released in Japan & Europe in November 2004, the Minish Cap starts with Link going to the annual Picori festival. After Vaati releases the seal of the Picori blade, Link heads to the forest and rescues Ezlo, a Minish elder, and wears him as a hat. He has to use the power of Ezlo to travel between the world of the humans and the world of the Minish in order to stop Vaati from finding the Light Force and save Princess Zelda.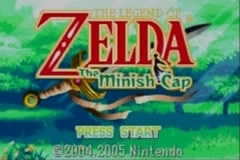 Get Flash to see this player.